Information
BBYO STANDS WITH ISRAEL
We have not canceled any of our BBYO Summer 2024 Israel experiences. We will keep a careful watch on the situation and elevate the safety of our participants above all else. That said, we remain hopeful that by the summer, the Jewish homeland will once again be a place where Jewish teens can safely explore, connect, and have fun together. Read more on our safety page →
Level up our classic Israel Journey experience with more time in Israel, allowing for more fun experiences and opportunities to get to know the land and its people.
Airfare cost to and from Israel is not included in the land cost. Flight information will become available in the spring. Need-based scholarships are available.

This program is eligible for a $3,000 RootOne voucher. Find additional voucher details and requirements here.
Accommodations (hotel, kibbutz & desert tent)
All meals
All programming
Private transportation
Security escort & monitoring
Medical insurance
Laundry service
Gratuity for program staff
New this summer, this four-week version of our popular Israel Journey experience gives teens more time to get to know the culture, community, and cuisine of Israel. With an additional week of touring, and an extra Shabbat to spend celebrating, we'll have ample time for authentic bonding and connection to the region and one another.
Information
In November 2023, BBYO launched a new summer registration system that requires families to create a brand-new account, as it is not connected to any of the systems you may have previously used. Please visit bbyo.my.site.com/s/login and click Register Now to start this process. Need help setting up your account? Visit this document for step-by-step instructions.
We have provided the following sample itinerary to give you a better feel for this experience. The actual program will vary. A confirmed itinerary is distributed no later than two weeks prior to the start of the program. 
DAY 1 | DEPARTURE FLIGHT
Meet your staff and teens at the airport before traveling together to Israel on an overnight flight. Once we land, your trip officially begins! We'll break the ice with some fun and engaging activities so that you get to know everyone in the group. To learn more about how we organize travel to and from the program, click here. 
DAY 2–3 | JERUSALEM
Our journey begins in Jerusalem. We'll gather at the Haas Promenade—overlooking the unique topography of the city—for a Shehecheyanu blessing, which is a Jewish prayer said to celebrate special occasions. Travel to Neot Kedumim Biblical Park for a tree-planting ceremony and group-bonding leadership workshop. Learn the skills of an archeologist at the Dig-for-a-Day Archaeological Seminar and explore the Bell Caves at Beit Guvrin National Park. View the Ella Valley from Tel Azeka—The famous site of David's battle with Goliath. 
DAY 4–8 | SEA OF GALILEE 
Discover the foundations of Jerusalem dating back to King David's time through the City of David Excavations. Cool off in the spring-fed underground aqueduct running below Jerusalem, Hezekiah's Tunnel. Take some time for reflections at the Kotel—the Western Wall—before we depart Jerusalem and head north to the Galilee. Begin our time together in the Galilee with a Kabbalat Shabbat and dinner experience at our accommodations. Enjoy a relaxed Shabbat with pool, sports, and free time! Discussion with the guide on Israel's Borders, lines, and neighbors. Cruise on the Sea of Galilee followed by a group night out in Tiberias. Hike down the Mt. Arbel cliff overlooking the Sea of Galilee. Experience the thrill of Israel's floating water park on the Sea of Galilee, Aqua Kef. Explore the historic center of Jewish mysticism in the ancient city of Tsfat, located in the Galilee highlands. Take some free time for shopping in the Tsfat artists' colony—meet with a Kabbalistic artist and have a Jewish musical experience with Livnot U'Lhibanot in Tsfat. Hike and swim your way down Nahal Yehudiya Canyon on the Golan Heights. Encounter with the Druze culture and share a traditional lunch in the Golan village of Ein Kinya. View Israel's neighbors and navigate former IDF bunkers at the summit of Mt. Ben-Tal. Cool off with relaxed rafting down the upper Jordan River followed by a BBQ dinner along the river. Spend a morning volunteering with HaShomer HaChadash. Stop at the Kinneret Cemetery and discover the poets and pioneers who shaped today's Galilee. Channel the spirit of Israel's early pioneers with a raft-building team challenge on the Sea of Galilee.
DAY 9–12 | HAIFA
Rappel down Dalton Cliffs, overlooking the Galilee and Golan Heights. Descend to the ocean-swept caves of Rosh HaNikra on Israel's far northern border. Explore the ancient seaport of Acco—including the Knights Halland Templar Tunnels—and then relax on the beaches of Acco. Explore Haifa, Israel's most diverse city, including a view of the Bahai Temple Gardens. Meet with the local Imam at the Ahmeddiya Mosque. Break for a gourmet hummus lunch in Wadi Nis Nas. Take part in a volunteer project at Pitchon Lev in Haifa. Enjoy a surfing class along the beaches of Haifa followed by a BBQ dinner. Have an ATV-style off-roading adventure in the Carmel Mountains at a kibbutz. Take a walking tour of an original village founded by Jewish immigrants in the 1880's. Learn about the remarkable story of Hannah Senesh, a poet and brave Holocaust liberator, at Kibbutz Sdot Yam, her home. Tour Herod's Roman amphitheater and grand palace on the beach of Caesarea. Relax for our second shabbat together as a group.
DAY 13–14 | NEGEV DESERT 
Start the day with a volunteering project at Leket, this is the leading Israeli foodbank for the hungry. Experience the world with new senses at the Holon Children's Museum through Dialogue in the Dark. Meet children seeking life-saving treatment in Israel from around the world at Save a Child's Heart. Honor the bravery of the pioneers who helped establish modern Israel at Machon Ayalon, a secret underground munitions facility. Experience the thrill of sandboarding down natural dunes in the Negev Desert. Experience the wonders of Israel's desert agriculture revolution at the Salad Trail. Meet with a local resident to learn about life along the Gaza frontier. Take part in preparing a traditional fresh-cooked "Poike Pot" meal in the desert. 
DAY 15–17 | EILAT
Hike to the hidden desert pools at Ein Avdat. Visit David and Paula Ben Gurion's modest home at Sde Boker and learn about the remarkable story of Israel's first Prime Minister and his unique vision for Israel's future in the desert. Continue south via the Ramon Crater to Eilat.
Discover underwater treasures snorkeling at Coral Beach. Take time to relax on the beach and try a banana boating adventure at the Red Sea resort city of Eilat. Break for ice cream at Yotvata, Israel's famous desert dairy farm. Head up the Arava Valley to the Judean Desert for an overnight desert camping experience. Ride camels and feast together at the desert encampment. 
DAY 18–20 | TEL AVIV
Wake up early for a hike up the Roman Ramp to the summit of Masada in time for sunrise. Tour Herod's desert mountaintop fortress and the bastion of an ancient Jewish rebellion. Descend Masada via Snake Path. Take a nature walk to the desert waterfalls oasis at Ein Gedi National Park. Experience effortlessly floating at the Dead Sea at Kalia Beach. Travel to Tel Aviv and prepare for our next Shabbat together. Spend Shabbat in a yoga and mindfulness session. Have some beach time along the Mediterranean Coast. Travel to the campus of Tel Aviv University for a group tour of ANU—Museum of the Jewish People. Discover the richness of Jewish Ethiopian culture and take part in a culinary workshop and meal at the Battae Center in Tel Aviv. Take a rainbow TLV or tech innovation walking tour to better understand Tel Aviv's vibrant culture. Attend a performance of "Not By Bread Alone" at Nalagaat, Israel's ground-breaking theater troupe comprised of deaf and blind actors. 
DAY 21–28 | JERUSALEM
Begin your day with an Israeli martial arts workshop on the beach. Explore the ancient port city of Jaffa and browse the Jaffa flea market. Soak in the spirit of Tel Aviv along Rothschild Boulevard and view Israel's historic Independence Hall, then continue on to the Carmel Market. Head back to Jerusalem and stop at Latrun, Israel's tank museum and site of a famous battle for Jerusalem in the 1948 War for Independence. Together, we'll visit Theodore Herzl Museum and hear the story of the Zionist idea and Israel's founding history. After, we'll walk through Mt. Herzl National Cemetery and honor Israel's national leaders and fallen soldiers. Learn about Israel's unique democratic system by taking part in the "Junior Knesset" workshop at the Menchem Begin Heritage Center. Walk the Rampart Walls of the Old City from Jaffa Gate to Zion Gate. Enter the Old City at Zion Gate and explore the ancient corridors and rooftops of the Jewish Quarter. Explore millennia of history deep under the Old City through the Kotel Tunnels. Spend the rest of the afternoon channeling your adventurous spirit at Jannana Ropes Park. Travel to Gush Etzion, the largest Israeli population center in the West Bank. Engage in a constructive dialogue of perspectives with a Jewish Settler and a Palestinian Arab who both call the land home through Roots Tent. Return to Jerusalem while exploring the unique geopolitics of Israel's capital city along the way. Meet with a member of Jerusalem's Arab community at the Feel Beit cross-cultural center. Stop at Yad VaShem World Holocaust Remembrance Center. Get soaked over a "water tag" game in the forests outside Jerusalem. Return to our accommodations and prepare for our final Shabbat in Israel. Re-enter the Old City for a community Kabbalat Shabbat experience at the Kotel. Spend our final Shabbat relaxing together at Jerusalem's Saker Park. Group night out at Jerusalem's Ben Yehuda Street Pedestrian Mall. Visit this landmark initiative to empower the elderly of Jerusalem at Yad L'Kashish. Meet with students at Maale—a film school devoted to exploring the intersection of Judaism and modern life. Walk through Mahane Yehuda and experience this colorful open-air marketplace for lunch. Visit to the Jewish Sports Museum at Kfar Maccabiah.Have some pool time, a final group wrap-up session, and closing dinner at Kfar Maccabiah. Afterwards, we'll make our way to the airport for an overnight flight back to the U.S. 
DAY 29 | RETURN FLIGHT
It's never goodbye, just see you later. Give your friends one last hug and part ways once your flight arrives at the airport. While your summer trip with us is over, the memories you've made will last a lifetime! 
Our most frequently asked questions about this program are answered below. Additional program-wide FAQs are also available. Still need something? We're here to help! Contact us.
---
What are the rules for Israeli citizens or children of Israeli citizens?
If either of your parents is an Israeli citizen, or if you have ever lived in Israel, it is your responsibility to make sure your status with the Israeli Defense Forces is worked out and clear. Moreover, you may still have obligations to the State of Israel that must be resolved prior to your trip, even if you do not have an Israeli passport. These matters must be taken care of before you arrive in Israel.
Note: If you hold an Israeli passport, you must enter Israel with your Israeli passport.
If you do not take care of these matters prior to your trip, you may be obligated to stay in Israel by the State of Israel until resolution. If this applies to you, you will be solely responsible for your own situation and any costs involved. Again, we highly recommend you be extremely cautious about these matters and contact one of the regional Israeli consulate offices if you have any questions.
How will my teen travel to the program?
BBYO requires all North American participants to fly on the group supervised flight for this program. Flight costs are not included in the program's land cost. BBYO will purchase a ticket for each traveler and charge the family directly. The flight cost for programs with supervised flight options will be announced, along with the flight details for all programs, in the spring. The supervised flight for this program will depart from the New York City area, typically Newark Liberty International Airport (EWR) or John F. Kennedy International Airport (JFK). Learn more about flying to the program.
Where will my teen be sleeping?
Many of the accommodations we stay at are kibbutz-based guest houses that are located in Israel's countryside and provide space for exploration within a secure environment. We use conventional hotels in Jerusalem and occasionally in other cities. All accommodations in Israel have security and we book rooms so that each teen has their own sleeping accommodation in rooms that typically accommodate 2 to 5 teens per room.
How is the program staffed?
Each group is accompanied by a team of madrichim (counselors) and a local Israeli guide. They are also joined by an armed guard and bus driver. Senior field staff also circulate between our groups for extra support. Staff names are sent out approximately 2–3 weeks prior to your departure as part of the pre-trip preparation emails. Staff are asked to make welcome calls to teens before departure. Feel free to ask them any remaining questions you may have. Learn more about our staff team.
What's the summer weather like?
The sun in Israel is strong—often stronger than teens are accustomed to—so dehydration, heatstroke, and sunburn are serious concerns, especially in a desert climate. Clothing should be lightweight and comfortable in the heat. Whenever outside for an extended period, teens will be required to have a hat, a shirt with sleeves, sunscreen, and water. The good news is the heat is mostly dry, there is very little humidity and the chance of rain in Israel during the summer is extremely low so no umbrellas are needed. Evenings in Israel tend to get chilly quickly. Because we will not always return to our accommodations to change before an evening activity, always bring a day pack with a windbreaker, long-sleeved shirt, or light sweater. Layers are key!
How do you approach security?
Since 1956, BBYO has organized teen programs in Israel with a fundamental commitment to providing a safe and meaningful experience. Our programs adhere to Israel's comprehensive security policies and are centrally monitored by Israel's Situation Room. Our itineraries are designed with caution in mind and our policies are calibrated to local conditions. Finally, each group is accompanied by trained staff and a licensed guard accompanies all touring-based activities. Learn more about our organization's approach to safety and security as well as more specific details about our Israel policies.
What's the typical group size?
Group size varies depending on the date of the program. Our average group size ranges between 20-45 teens. In some cases, multiple groups will travel on a similar path, although each group has its own dedicated staff, guide, and guard.

What's the food like?
Expect to eat Middle Eastern and Mediterranean foods such as falafel, hummus, schnitzel, shakshouka, borekas, and much more. When traveling, your teen may encounter new foods that will not be to their liking, so we ask teens to be flexible and have snacks and other alternatives on hand just in case.
As a travel-based program, our meals take a variety of forms and may include hotel buffets, restaurants, catered meals, and allowance funds for participants to purchase a meal on their own. All food provided by BBYO Passport experiences in Israel is kosher. When a meal is served in a public buffet format (e.g. hotel breakfast), we will always ensure that there are vegetarian, pescatarian, or dairy options available and we will not restrict teens from eating the food of their choice.
Some meals may be provided via a cash allowance where teens will be given money to purchase the food of their choice, called a pizur meal. Such meals are typically arranged in an area where there are multiple restaurant options and teens can choose the food of their liking. When time is limited for meal choice, staff may choose to facilitate meal orders on behalf of teens using their allowance funds.
Participants with special dietary needs (i.e. lactose intolerance, gluten-free, kosher, etc.) should review our dietary restrictions commitment document and contact us in advance to be sure we can accommodate your needs during the program.
Will I need a visa?
If you travel with an American, Canadian, or EU passport, good news! You don't need a visa to enter Israel. If you travel with a passport from another country, you may need a visa. Contact your nearest Israeli embassy or consulate for additional details.
What are the payment and cancellation terms?
All of these details are available here: Registration Terms.
For more information, check out our general FAQs or the pre-trip preparation manual.
This trip does not connect with any other BBYO Passport program. If you're looking to have an extended summer of adventure, learning, and self-discovery, check out the trips that do allow you keep the fun going.
Learn more about our trip connections.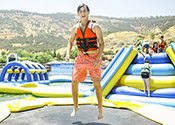 Experience the thrill of Israel's floating water park, Aqua Kef, on the Sea of Galilee
---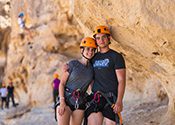 Get your adrenaline flowing as you rappel down the cliffs of Dalton
---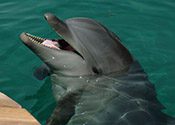 Swim with dolphins in their natural habitat at Eilat's Dolphin Reef
---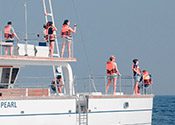 Experience the Red Sea in style on a yacht cruise with ocean waterslides
---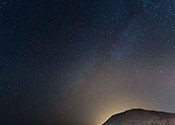 See the Milky Way and other galaxies like never before on a Negev Night Sky Tour
---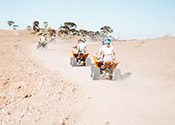 Enjoy an ATV-style off-roading adventure in the Carmel Mountains at a kibbutz
---