Looking to one-up your summer with BBYO? Connect Mediterranean Discovery with Israel Journey to make it an ultimate experience! After riding the gondolas through the canals in Venice and rafting down the Soča River in Slovenia, you'll hop over to Israel and get to free-float in the Dead Sea and go boating on the Jordan River.
Airfare cost to Europe, and back to the U.S. from Israel, is not included in the land cost. Flight information will become available in the spring. Need-based scholarships are available.

This program is eligible for a $3,000 RootOne voucher. Find additional voucher details and requirements here.
Accommodations (hotels and lodging)

All meals

All programming
Private motorcoach

Medical insurance

Laundry service
Gratuity for program staff
Start off in Italy and Slovenia with a well-balanced combination of must-see touring, eye-opening Jewish experiences, and a unique opportunity to forge friendships with fellow Jewish teens in one of the world's most beautiful regions. Then, continue on to Israel and discover the land's many treasures on a transformative journey with a focus on historical exploration, exhilarating adventures in nature, and cultural connections. This experience connects both our Mediterranean Discovery and Israel Journey programs and has two program date choices.
Begin with a journey back in time to explore the origins of Western Civilization in the Italian cities of Rome, Florence, Venice, and Pisa. Then, travel deep into the mountainous reaches of Slovenia where you'll canoe on a glacial lake, raft down a roaring river, explore a massive network of underground caves and enjoy the crisp alpine air hiking in the Slovenian highlands.
As a Jewish travel experience, while in this region we will also retrace the 2,000+ year history of continuous Jewish life in Italy. You'll find out what it meant to be Jewish during the Roman Empire, contemplate the enduring mystery embodied in the Arch of Titus, and explore the world's original ghetto in Venice.
After that, we'll travel to Israel where we'll explore from the far north in the Galilee to the deep south at the Red Sea as we visit ancient Jerusalem, modern Tel Aviv, the lush Golan Heights, the vast Negev Desert, the unsinkable Dead Sea, and the stark mountaintop fortress of Masada. Along the way, you'll take part in an authentic archaeological dig, sample the world's very best falafel, spend a night sleeping under the desert stars, and experience the innovative energy of Tel Aviv first-hand.
More than a tour, this is an opportunity to understand Israel's dynamic society first-hand while finding your own connection to this storied land. Explore what it means to be Jewish from an Israeli point of view, understand the complex politics of the Middle East with real-world insights, and practice Jewish values through hands-on volunteering and Shabbat experiences.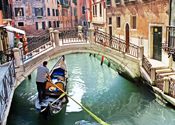 Navigate the canals and waterways of old Venice by gondola
---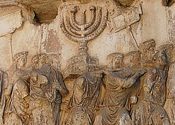 Explore the treasures of the Vatican and the Jewish Quarter in Rome
---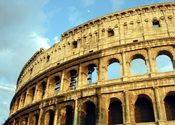 Pay homage to the Roman Empire, visiting the Colosseum, Pantheon, and Forum Romanum
---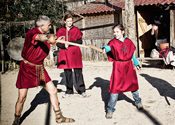 Channel your inner warrior while taking part in a gladiator-for-a-day class
---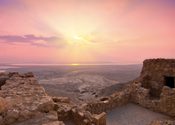 Float in the Dead Sea and scale the heights of Masada to watch the sunrise
---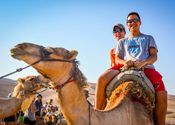 Navigate the wilderness on a camel trek and enjoy a delicious desert feast in Bedouin tents
---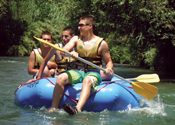 Raft down the Jordan River and swim under the Ein Gedi desert waterfalls
---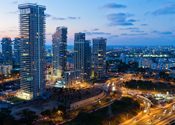 Soak up the innovative spirit of Tel Aviv and enjoy its lively beach culture
---