Information
In November 2023, BBYO launched a new summer registration system that requires families to create a brand-new account, as it is not connected to any of the systems you may have previously used. Please visit bbyo.my.site.com/s/login and click Register Now to start this process. Need help setting up your account? Visit this document for step-by-step instructions.

Jun 26 - Jul 24, 2024  Available


current grades
CURRENT GRADES: 9-11
Airfare cost to and from Europe is not included in the land cost. Flight information will become available in the spring.
Accommodations (hotels and lodging)
All meals
All programming
Private motorcoach
Medical insurance
Laundry service
Gratuity for program staff
Taking in all of the beauty surrounding the Mediterranean Basin, this trip combines our Mediterranean and Greece Discovery programs. Teens will spend their summer better understanding two vastly different empires that significantly influenced and shaped the world as we know it today: the Romans and Greeks. Together, we'll observe art and history, uncover ancient landmarks that have been around for centuries, and spend time taking in the bustling city-life that has emerged in each region.
Enjoy these trip highlights:
See Michelangelo's famous sculpture of David at the Galleria dell'Accademia in Italy
Visit Meteora, the impressive Greek rock formations that have monasteries suspended high in the sky
Snap photos in front of the iconic Blue Domes of Oia in Santorini
Information
Questions about this program? We're happy to answer them! Contact us. Families that are already registered for this experience should email [email protected] with any questions they have and someone from our customer service team will respond.
We have provided the following sample itinerary to give you a better feel for this experience. The actual program will vary. A confirmed itinerary is distributed no later than two weeks prior to the start of the program. 
DAY 1 | DEPARTURE FLIGHT
Meet your staff and teens at the airport before traveling together to Europe on an overnight flight. The program starts with our Mediterranean Discovery program. Once we land, your trip officially begins! We'll break the ice with some fun and engaging activities so that you get to know everyone in the group. To learn more about how we organize travel to and from the program, click here.
DAY 2–4 | ROME, ITALY 
Our adventure begins walking in the footsteps of the Roman Empire at the Colosseum and the Forum Romanum. Stand beside the massive Arch of Titus and view a depiction of the Temple Menorah that is believed to have been carried off to Rome after the destruction of Jerusalem in 70 C.E. Then, channel your inner warrior as you take part in a "Gladiator for a Day" training. Afterwards, we'll settle into our accommodations in Rome.
You'll spend the next day exploring Vatican City in the heart of Rome and see St. Peter's Basilica as well as the Sistine Chapel. Stare in awe at Mount Vesuvius—the volcano that led to the ancient city of Pompeii's untimely demise—and learn about how it remained perfectly preserved through a tour with a local guide. We'll return to Rome for Shabbat dinner and take part in our first Shabbat service abroad at an Italian Synagogue.
We'll wrap up our time in the city with a walking tour of Rome's Jewish Quarter, the oldest continually settled Jewish community outside of Israel. Then, continue exploring Rome on foot, stopping at the Pantheon Temple and Spanish Steps.
DAY 5–6 | FLORENCE, ITALY 
Teens will leave Rome and make their way to Florence, stopping to see the Leaning Tower of Pisa en route. Once we arrive and get settled, you'll learn more about the city of Florence through a sightseeing tour of the city's most popular landmarks, such as the Duomo, Piazza San Lorenzo, and Ponte Vecchio (Old Bridge).
Visit the Grand Synagogue, one of the world's most beautiful synagogues. See Michelangelo's famous sculpture of David at the Galleria dell'Accademia. Climb to the top of Giotto's Campanile Tower for a stunning panoramic view of Florence. Then, enjoy an afternoon visit at the amusement park Gardaland.
DAY 7–8 | KRANJSKA GORA, SLOVENIA
Depart Florence in the morning and set off for the Slovenian backcountry. Raft down the Soča—one of Europe's most beautiful rivers—before traveling through the Slovenian mountains to Kranjska Gora. Get your safety gear on, because we're going to Adventure Park in Bled! This natural environment of trees offers dozens of attractions for teens. The group will take a boat ride to the tiny Bled Island in the middle of a crystal blue lake and make a wish before ringing the island's legendary wishing bell.
DAY 9–11 | LJUBLJANA, SLOVENIA
Though our time in Kranjska Gora is short, you'll love traveling to Ljubljana—Slovenia's capital—and taking in the views from a castle towering over the city. Teens will take in a spectacular view from the funicular (a type of cable railway) of the castle prior to their walking tour of the city. Then, we'll put your Mario Kart skills to the test in real life as we go karting at the Grand Prix. Experience Europe's state-of-the-art multi-level track and feel the adrenaline rush as you race around.
DAY 12–14 | VENICE, ITALY
Cool off underground as you discover the treasurers of the Postojna Cave, then cross back into Italy and travel towards Venice via the Tuscan countryside. We'll enter the water-filled streets of Venice on a vaporetto waterbus and take an evening walk through Venice.
Set sail for the island of Murano and visit a traditional Venetian glass-making factory. Then, travel to Lido and enjoy beach time and swimming in the Adriatic Sea. Afterwards, we'll return to the main island of Venice and see the sites of the city on a walking tour.
Teens will explore Piazza San Marco, including the Basilica and Palazzo Ducale (Doge's Palace). We can't end our time in Italy without a private gondola ride through the waterways. We'll enjoy one final dinner as a group before saying ciao to Italy!
DAY 15 | ATHENS, GREECE
Teens will continue to build on this awe-inspiring adventure by connecting into our Greece Discovery trip. We'll head to the airport for a transfer flight to Greece. Once we arrive, our adventure begins with a tour of the ancient city of Athens. See Syntagma (Constitution) Square, the central square of Athens. Just a stone's throw away from Herodou Attikou Street—considered one of the most beautiful streets in the city—the Presidential Palace and its lush gardens await you. We'll also stop at Panathenaic Stadium—the only stadium in the world built entirely of marble—where the first Olympics of the modern era took place in 1896.
DAY 16–18 | NORTHERN GREECE
We'll drive to Thessaloniki, a Greek port city on the Thermaic Gulf of the Aegean Sea. Evidence of Roman, Byzantine, and Ottoman empires remain, especially in upper town. The group will tour this area to see the medieval walls, main harbor, and Arch of Galerius, a magnificent stone structure built around 300 AD. As the sun starts to set, teens will celebrate their first Shabbat together in Greece.
Spend the Sabbath relaxing before we continue touring Thessaloniki. You'll walk by White Tower, a monument and museum on the waterfront of the city. See how the Roman Empire's influence is still sprinkled throughout the city when you stop at the Rotonda, where frescoes that were painted on the walls in the 4th century survive today. Learn about La Madre de Israel—translated to Jerusalem of the Balkans—Thessaloniki's historical Jewish community. We'll spend our final evening here exploring the city center, which is bustling with shops, bakeries, clothing stores, and more. Before leaving the city, we'll visit the Jewish Museum.
After, we're southbound! The group will stop in Kalambaka—located in central Greece—to visit Meteora. This impressive rock formation hosts one of the largest complexes of monasteries in the world at the top. We'll rest for the night before continuing south to Delphi.
DAY 19–22 | SOUTHERN GREECE
Step back in time and unearth some of history's oldest artifacts at the Archaeological Museum of Delphi, one of the biggest tourist attractions in Greece. We're going to continue south to Olympia, spending time swimming at a nearby beach before we arrive. Then, we'll visit the site where the first Olympic Games took place in the ancient world. The Archaeological Museum of Olympia features some of the most significant exhibitions of Ancient Greece. See breathtaking sculptures from the excavation of the sanctuary of Zeus, masterpieces from the long history of the Olympic Games' birthplace, and thousands of years of art.
On our journey to Nafplio, we'll stop in Mycenae, a prominent site in Greek mythology that inspired poets, writers, and artists. Teens will have more time on the beach to play some water sports before we walk through the Ancient Theater of Epidaurus, dedicated to the Ancient Greek god of medicine, Asclepius. Famous for its acoustics, this awe-inspiring marble theater sits in the lush hills of the Peloponnese. It's argued to be the grandest and best-preserved in all of Greece.
Before we head back to Athens, the group will enjoy a folklore dinner in Plaka. Teens will learn Greek dances and enjoy live, authentic Greek music.
DAY 23–25 | ATHENS, GREECE
Our second visit to Athens will be more meaningful than when we arrived now that we've learned so much about Greek culture and can take a deeper dive to understand the city and all its glory. During a full day tour, we'll visit the Athens Jewish Museum, Monastiraki Flea Market, and the Acropolis, an ancient citadel located on a rocky outcrop above Athens. This area contains the remains of several historically significant buildings, the most famous being the Parthenon. The Parthenon was dedicated to the Greek goddess, Athena. Enjoy spending your second Shabbat in Athens with the group before we embark to Santorini.
DAY 26–28 | SANTORINI, GREECE
One of the most famous islands in the world, Santorini has some of the most breathtaking views in the world. You'll stop for a few photos on Red Beach. One of the most stunning beaches on the island, it stands out for its red colored cliffs that were formed due to volcanic eruptions and is situated near the ancient site of Akrotiri. You can see how volcanic activity formed the beautiful black sand beach of Perissa. Sigh as you watch the sun set from the village of Oia, infamous for its whitewashed houses and blue-dome churches.
Feel the island come alive as you walk through Fira, the captivating capital of the island and the biggest settlement of Santorini. You'll take the cable car down to the old port and return up via donkey ride—you read that right! Learn about the pirate hideaways that are sprinkled throughout the hidden gem, Megalochori. This village has traces of settlements that date back approximately five thousand years and offers a wonderful view of the Aegean Sea.
We'll return to the mainland and spend one final evening in the Greek capital of Athens. Spend time shopping for last minute souvenirs, exploring the streets, and indulging in your favorite foods one last time before we head home.
DAY 29 | RETURN FLIGHT
We'll make our way to the airport for our flight back to the U.S. It's never goodbye, just see you later. Give your friends one last hug and part ways once your flight arrives at the airport. While your summer trip with us is over, the memories you've made will last a lifetime!
Our most frequently asked questions about this program are answered below. Additional program-wide FAQs are also available. Still need something? We're here to help! Contact us.
---
How will my teen travel to the program?
BBYO requires all North American participants to fly on the group supervised flight for this program. Flight costs are not included in the program's land cost. BBYO will purchase a ticket for each traveler and charge the family directly. The flight cost for programs with supervised flight options will be announced, along with the flight details for all programs, in the spring. The supervised flight for this program will depart from the New York City area, typically Newark Liberty International Airport (EWR) or John F. Kennedy International Airport (JFK). Learn more about flying to the program.
Where will my teen be sleeping?
The group stays in a variety of 3-star hotels. When booking our accommodations, we request for each teen to have their own sleeping accommodations in a shared living space.
How is the program staffed?
Each group is accompanied by a team of madrichim (counselors), a local European tour leader, and a bus driver. Senior field staff also circulate between our groups for extra support. Staff names are sent out approximately 2–3 weeks prior to your departure as part of the pre-trip preparation emails. Staff are asked to make welcome calls to teens before departure. Feel free to ask them any remaining questions you may have. Learn more about our staff team.
What's the summer weather like?
The weather throughout Italy, Slovenia, and Greece is a typical Mediterranean climate—dry heat, cool evenings, and little to no rain. Temperatures will typically be in the 80s and 90s. Due to the dry nature of the heat in the Mediterranean, the sun is deceptively strong and you should plan to bring plenty of sunscreen and a good hat for outdoor touring.
How do you approach security?
The safety of the teens under our care is our guiding consideration. Learn more about our organization's approach to safety & security.
What's the typical group size?
Although it varies from year to year, our average group size for Mediterranean & Greece Discovery is 35-42 teens. Some teens choose to sign up together with a friend or two and most teens choose to come on their own. Either way, our participants will have the opportunity to meet a diverse group of peers from various locations across North America which makes exploring a new place together even more exciting. On some programs, we might have multiple parties from the same area register together. In this case, we are unable to inform families when this occurs and though we are always willing to share the group dynamics of the current registrations, we typically have a good idea of the general group make up after our cancellation deadline.
What's the food like?
Expect foods like pizza, pasta, and gelato in Italy and Slovenia. You'll try delicacies like tzatziki, olives, baklava, and stuffed grape leaves in Greece. When traveling, your teen may encounter new foods that will not be to their liking, so we ask teens to be flexible and have snacks and other alternatives on hand just in case.
As a travel-based program, our meals take a variety of forms and may include hotel buffets, restaurants, catered meals, and allowance funds for participants to purchase a meal on their own. When a meal is served in a public buffet format (e.g. hotel breakfast), we will always ensure that there are vegetarian, pescatarian, or dairy options available and we will not restrict teens from eating the food of their choice.
Some meals may be provided via a cash allowance where teens will be given money to purchase the food of their choice, called a pizur meal. Such meals are typically arranged in an area where there are multiple restaurant options and teens can choose the food of their liking. When time is limited for meal choice, staff may choose to facilitate meal orders on behalf of teens using their allowance funds.
Participants with special dietary needs (i.e. lactose intolerance, gluten-free, kosher, etc.) should review our dietary restrictions commitment document and contact us in advance to be sure we can accommodate your needs during the program.
Will I need a visa?
If you travel with an American, Canadian, or EU passport, good news! You don't need a visa to enter any of the European countries we travel to. If you travel with a passport from another country, you may need a visa.
What are the payment and cancellation terms?
All of these details are available here: Registration Terms.
For more information, check out our general FAQs or the pre-trip preparation manual.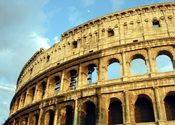 Pay homage to the Roman Empire, visiting the Colosseum, Pantheon, and Forum Romanum
---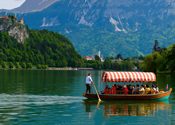 Raft the Soca River, trek in Postojna Cave, and enjoy Slovenia's glacial Lake Bled
---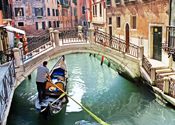 Navigate the canals and waterways of old Venice by gondola
---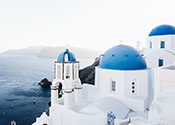 Watch the sun set in the village of Oia, infamous for its whitewashed houses and blue-domed churches
---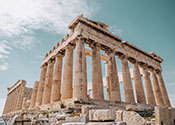 Step back in time and visit Acropolis, an ancient citadel that contains the remains of several historically significant buildings like the Parthenon.
---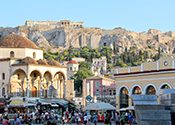 Shop until you drop while walking through Monastiraki Flea Market, stopping to get your souvenir fix of the trip.
---