Feast on feta and marvel at the manmade architecture of ancient cities like Athens, Thessaloniki, Meteora, Mycenae, and Santorini. Together, we'll spend two weeks soaking in the art, music, food, and shopping that Greece has to offer.

Jul 10 - Jul 24, 2024  Available


Airfare cost to and from Europe is not included in the land cost. Flight information will become available in the spring.
Accommodations (hotels)
All meals
All programming
Private transportation and local transportation
Medical insurance
Gratuity for program staff
Focused on the southern tip of the Balkan peninsula, this trip will illustrate how Greek culture has influenced modern-day Western civilization by being the birthplace of democracy, Western philosophy and literature, political science, many major scientific and mathematical principles, theatre, and the Olympic Games. Teens will eat a traditional Greek meal while watching the sun set over the Aegean Sea, walk along the volcanic beaches of Santorini and through the Jewish quarter of Athens, and shop until they drop at the Monastiraki Flea Market.
Don't miss these archaeological landmarks, significant to Greek mythology:
The Temple of Olympian Zeus—located in the center of Athens, this second century structure was dedicated to the heads of the Olympian gods
Archaeological Site of Olympia—contains the sanctuary to the gods, the highest concentrations of ancient Greek masterpieces, and remnants of all the sports structures erected for the Olympic Games
Mount Olympus—the highest mountain in Greece and mythological home of the god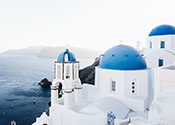 Watch the sun set in the village of Oia, infamous for its whitewashed houses and blue-domed churches
---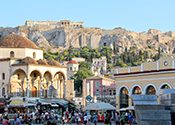 Shop until you drop while walking through Monastiraki Flea Market, stopping to get your souvenir fix of the trip.
---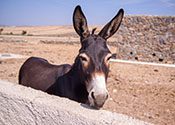 Enjoy the thrill of riding a donkey uphill after visiting the old port in Fira
---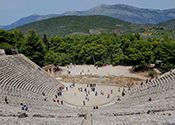 Stare in awe at the Ancient Theater of Epidaurus. Famous for its acoustics, this marble theater sits in the lush hills of the Peloponnese.
---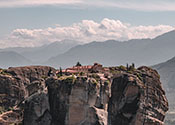 Stop to see the impressive rock formations of Meteora, which host one of the largest complexes of monasteries in the world at the top
---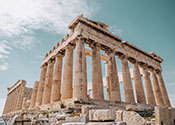 Step back in time and visit Acropolis, an ancient citadel that contains the remains of several historically significant buildings like the Parthenon.
---